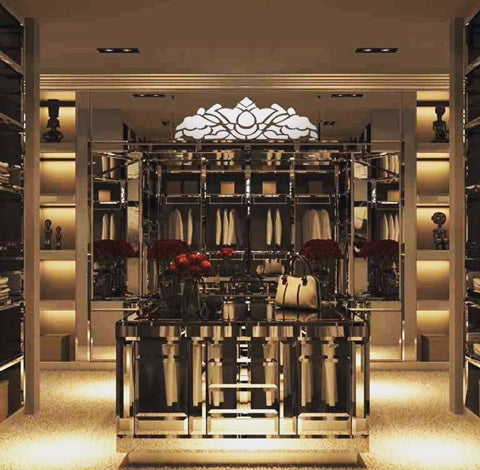 Feng Shui Closet Memoirs - Declutter and organize
The arrival of spring means it's time for closet transition. Why not make it a Feng Shui closet to give you less anxiety in the morning? For some, opening the closet to figure out what to wear could be a daunting task. Oh my, what will I wear? I only have a few seconds to figure it out. I have such and such to do today. Like any area of life being organized and prepared helps to alleviate unnecessary stress.
Applying Feng Shui (inspiration that govern spatial arrangement and orientation in relation to the flow of energy) may seem like a daunting task with little reward, but trust me, you'll be thankful later. If you are a fashion-conscious lady, a style maven or a doyenne, this is the step to simplifying one aspect of the art of dressing.
Before you begin, let me say. Start this project on a day you have time to do it, and the right way. Depending on the state of your current closet, you might have to tackle this project in several phases or with someone who knows you and your lifestyle well. Awareness of your lifestyle and ambitions amplifies the result. As you work through this, remember the goal is to curate a closet you love that is appropriate for your needs.
Suggestion #1: Assess your needs.
Before you begin, think about your needs, and ask yourself the following questions: does your closet as is provide the storage needed for your life? If not, would a few simple adjustments do the trick or do you need to call for help? A handyman can do simple adjustments with closet organization items purchased from retailers like Amazon, the Container Store or IKEA. To create your dream closet for US properties, you can commission companies such as Kathleen Jacobson, The Couture Closet, California Closets, Closet by Design, Bella System Custom Closets, LA Closet Design, Built-Rite Closets or Transform Home. These are some favorites but there  are many more companies that offer such services. The most important thing is to  create a working closet space that suits you. Make sure there are specific locations with sufficient space for the pieces in your wardrobe. Always be sure to  leave room to add more! As you know, we ladies always add more.  
Suggestion # 2: Declutter your closet.
Your closet should only contain pieces that are ready to wear (that you actually will wear). If you don't love it - toss it! If it's not in perfect condition - toss it! If you never ever, ever wear it - toss it! And by toss it, I mean donate it (if it's in wearable condition and someone else may enjoy it).
Allow me to take a step back. If there's a piece you love, and a simple repair or mend will bring it back to perfect condition. Then, do so! But, please take it out of the closet and place it in a bag to take to repair or do it yourself. You should only take the  do-it-yourself route  if you're 100% capable of achieving a professional finish, otherwise take it to a professional. (I always recommend finding a local cleaner or alterations shop for simple repairs. Also, it's great to use them for giving you a custom fit for your off the rack clothing.)  
Suggestion #3: Categorize your clothes.
Separate your clothes into dressing categories such as casual, ready-to-wear, business, cocktail, party-time and formal/evening. This allows a clear view of what you have available for each category. Many find it helpful during this process to list the staple pieces missing in your closet to create more comfortable outfits you love and can live in for all the occasions and activities in your life. Don't forget to include shoes!
I hope taking these steps starts the process of creating a zen closet that you will find helpful and anxiety-reducing. As long as you keep your closet in this state, it will not be an ephemeral sensation.
Share your before and after closet pictures with us on social media using hashtag #AishaRTW. And who knows? You might just be selected to wear one of our dresses.
More to come in future Feng Shui Closet Memoirs- Next week we'll cover the next steps in curating a Feng Shui closet that you will love and enjoy.
In the Aisha RTW blog, we aspire to provide empowerment, inspiration and styling tips with the incorporation of Feng Shui. Aisha RTW is a Feng Shui conscious lifestyle women's ready-to-wear brand offering dresses, capes, coats, scarves and handbags. On this blog, we are dedicated to spreading knowledge on how to incorporate Feng Shui into the art of dressing and the fashion world.
ALL THE CONTENT ON THIS BLOG IS ORIGINAL UNLESS OTHERWISE NOTED. WE ASK THAT YOU, PLEASE DO NOT REPOST ANY OF OUR BLOGS WITHOUT OBTAINING PERMISSION. HOWEVER, YOU ARE MORE THAN WELCOME TO LINK BACK TO OUR POST. COPYRIGHT 2018.